In a world where traditions are evolving and personal choices reign supreme, love and commitment have taken on new dimensions. While marriage remains a cherished institution for many, it's not the right path for everyone. That's where commitment ceremonies step in, bringing all the magic and none of the rigid rules. We may be biased, but we're pretty certain there's no better location for the perfect commitment ceremony than right here in beautiful Lake Tahoe! So, if the idea of planning a commitment ceremony has ignited your curiosity, especially against the breathtaking backdrop of Lake Tahoe, then this guide is tailor-made for you! Keep reading to delve into the possibilities.

What is a Commitment Ceremony?
A commitment ceremony is a non-legally binding ritual or event that celebrates and formalizes a couple's commitment to each other. A commitment ceremony is the answer if you want to make a statement about your life, where love takes center stage, and there is no legal fuss or societal norms to hold you back. Commitment ceremonies are your opportunity to express your devotion in a way that feels authentic and true to who you are as a couple. Commitment ceremonies can be held for same-sex or opposite-sex couples and reflect various cultural, religious, or personal beliefs.
5 Key Characteristics of a Commitment Ceremony
Exchange of Vows

: Just like in a traditional wedding, couples exchange heartfelt vows and promises to one another. You should personalize these vows to reflect your unique relationship and values.

Personalization & Symbolic Acts

: Commitment ceremonies offer the freedom to personalize every aspect, from the location and decor to the ceremony script and readings. Couples often incorporate symbolic acts, rituals, or traditions that hold personal significance. This could include exchanging rings, lighting candles, planting a tree, or any other action representing your commitment.

Celebration with Family and Friends

: Like weddings, you can celebrate your commitment ceremony with family and friends. Invite your loved ones to gather in support and celebration of your love story and commitment.

Flexibility: Commitment ceremonies can unfold in various settings, and Lake Tahoe offers some of the most incredible options. You'll find remarkable outdoor venues, from our clear-water shores to the mountain summits. Additionally, our indoor spaces provide stunning views, top-notch amenities, and exceptional service.
Inclusion and Acceptance

: Unlike legal marriages, commitment ceremonies do not hold any legal status or require a marriage license. These ceremonies allow for a public declaration of love and commitment in a supportive environment. It's an opportunity to create a meaningful, personalized declaration of love within a space that resonates with your beliefs and values, free from the constraints of religious affiliations or traditions.
It's important to note that the specifics of commitment ceremonies can vary widely based on cultural, religious, and personal preferences. Ultimately, commitment ceremonies celebrate love and commitment meaningfully to the couple involved!
Why Choose Lake Tahoe for Your Commitment Ceremony?
We could go on and on about why Lake Tahoe is the best place to host a commitment ceremony. Choosing Lake Tahoe as the location for your commitment ceremony adds a layer of significance to your event, as the memories you create in this magical place become intertwined with your commitment and love story. It offers a canvas upon which you can paint the portrait of your love story, surrounded by the majesty of nature and embraced by the spirit of this remarkable destination.
Its intimate atmosphere fosters heartfelt connections, and the region's outdoor activities offer adventure for couples and guests alike. With stunning photography opportunities, an inclusive community, and lasting memories, Lake Tahoe is the perfect blend of natural wonder and meaningful celebration for your commitment ceremony.
Planning a Lake Tahoe Commitment Ceremony in 8 Steps
Step 1: Define Your Vision – Start by discussing with your partner what you envision for your Lake Tahoe commitment ceremony. Consider the atmosphere, location, guest list, and overall vibe you want to create.
Step 2: Choose a Date and Venue – So many incredible Lake Tahoe wedding venues would make the perfect commitment ceremony location! Lake Tahoe's breathtaking natural beauty is unparalleled, and our charm is not confined to a specific season.  The pristine blue waters of the lake, surrounded by majestic mountains and lush forests, create a stunning and serene atmosphere that symbolizes the depth and endurance of your commitment. Choose a venue that resonates with your relationship, whether it's a beachfront tent, a boathouse on the pier, a historic Grand Hall, or a spectacular ballroom. Tahoe truly has something for everyone.
Step 3: Make Your Guest List – Include your closest family members and friends who have played significant roles in your lives. Consider those who have been part of your journey as a couple. Friends who have witnessed your relationship's growth and milestones might hold a special place on your guest list. Depending on your backgrounds, there may be cultural or religious expectations about who to invite. Consider these factors while also staying true to your preferences.
Step 4: Choose a Ceremony Officiant – Decide who will officiate the ceremony. It could be a close friend, family member, or professional celebrant. Work with them to craft a ceremony script that reflects your relationship.
Step 5: Curate your Ceremony Elements – Choose the elements you want to include in your commitment ceremony, such as vows, readings, rituals, or symbolic acts. In recent Tahoe commitment ceremonies, we've been witnesses to truly exceptional and romantic symbolic acts. Among our personal favorites:
A tree planting that included both sets of parents and represented their relationship's strength and the nurturing required to thrive.

A butterfly release as a tribute to family members who have passed away.

An origami exchange where the couple each brought a symbolic piece to exchange, then shared what each meant to the crowd.

An artistic duo painted a canvas during the ceremony, capturing the precise hue of Lake Tahoe's blue on their special day.

A heartwarming "breaking bread" gesture featuring the couple's homemade bread shared with guests to signify the sustenance they provide for each other.

A handfasting ceremony that used different colored ribbons to bind the couple's hands, symbolizing their connection and commitment.
Step 6: Choose your Decor and Attire – Decide on a decor style and theme that resonates with your personalities. Whether it's rustic, bohemian, modern, or minimalist, you can choose decorations that enhance the ambiance. You'll also need to plan your outfits accordingly! Embrace a traditional wedding look, or don't! Consider what makes you both feel comfortable and confident.
Step 7: Assemble your Vendor Dream Team– Depending on your commitment ceremony preferences and budget, hire vendors such as a photographer, caterer, florist, and musicians. Choose professionals who align with your vision.
Step 8: Plan Your Reception or Celebration – Decide if you'll have a post-ceremony celebration or reception. Plan the details, such as food, drinks, music, and any activities you want to include. Then create a timeline for the day, outlining when each element of the ceremony and celebration will occur. Make sure everyone involved is aware of the schedule.
A Preview of the Best Lake Tahoe Commitment Ceremony Venues:

Named to Travel + Leisure's Lake Tahoe Hotels with Postcard-Worthy Views and Year-Round Adventures, The Landing Resort & Spa is set against the picturesque backdrop of Lake Tahoe. With its breathtaking lakeside setting, versatile event spaces, and experienced planning team, the resort ensures an unforgettable celebration that reflects the uniqueness of your love. Dedicated to inclusivity and offering luxurious accommodations, The Landing Resort & Spa creates the perfect canvas for your commitment ceremony, capturing the essence of your journey in every detail.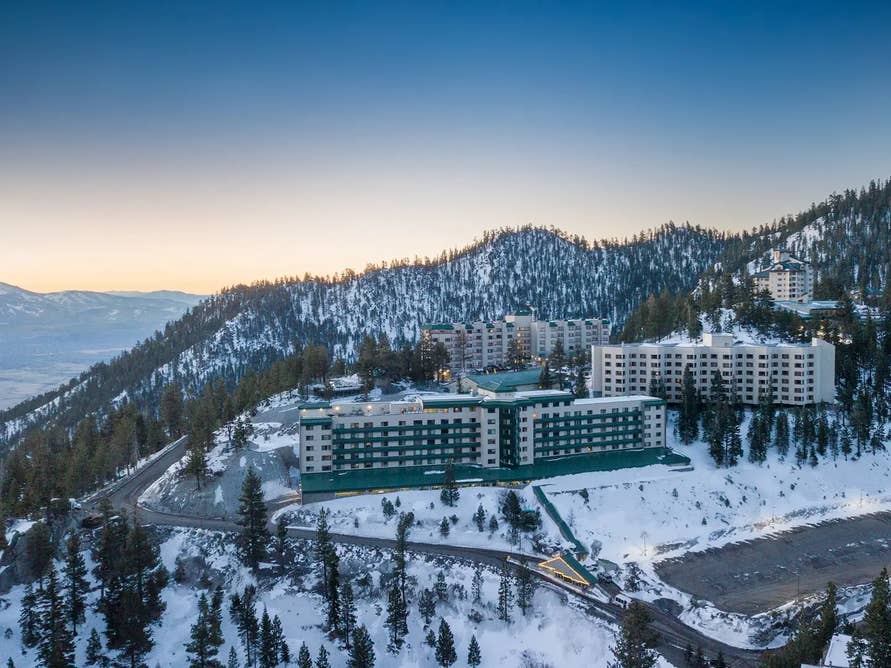 Surrounded by the serene beauty of Lake Tahoe's mountains, Tahoe Ridge Resort offers an unparalleled commitment ceremony experience. Its tranquil mountain setting, complemented by versatile event spaces and an experienced planning team, guarantees a celebration that mirrors the authenticity of your love story. The resort's seamless blend of rustic charm and modern amenities, along with its breathtaking views, promises an unforgettable and meaningful celebration that captures the essence of your commitment.
Positioned at the heart of Lake Tahoe, the Lake Tahoe Resort Hotel is an exceptional choice for your commitment ceremony. Boasting spacious event venues, professional coordination services, and stunning lake views, the resort provides an unparalleled backdrop for celebrating your love and commitment. Lake Tahoe Resort Hotel ensures a seamless and memorable experience that honors your unique journey with all-suite accommodations, a commitment to personalization, and an inviting atmosphere.
Presenting prime lakefront locations, diverse event spaces, and seasoned planning professionals, Harrah's & Harvey's offers an unmatched commitment ceremony experience. The resorts' blend of luxury accommodations, sweeping lake views, and an array of amenities ensures a tailored celebration that captures the essence of your partnership. With their timeless charm and unparalleled lakefront beauty, Harrah's & Harvey's promise a remarkable ceremony that reflects your unique bond in a setting of unparalleled elegance.
Amidst the historic charm and stunning lakeside beauty of Valhalla Historic Estate, your commitment ceremony becomes a truly unique experience. The estate's captivating surroundings, rustic elegance, and personalized event coordination create a setting that perfectly embodies the significance of your commitment. With a rich history and enchanting natural backdrop, Valhalla Historic Estate offers an extraordinary canvas to celebrate your love in a way that's both timeless and exceptional.
Golden Nugget Hotel & Casino Lake Tahoe offers an energetic and contemporary choice for those seeking a distinctive commitment ceremony. Its dynamic event spaces, captivating mountain views, and dedicated planning team ensure an unforgettable backdrop for celebrating your commitment with style. Amidst modern amenities and entertainment options, the resort presents a unique canvas to honor your love story, setting the stage for a celebration that's as vibrant and individual as your partnership.
Positioned along the pristine shores of Lake Tahoe, Beach Retreat & Lodge offers an exceptional commitment ceremony experience. The lodge creates an atmosphere of intimacy and serenity with its prime beachfront location, intimate event spaces, and attentive planning services. The cozy accommodations, stunning lake views, and a tranquil beach setting set the stage for a heartfelt celebration that showcases the essence of your commitment in a location that's both inviting and breathtaking.
Let's Plan Your Lake Tahoe Commitment Ceremony
In today's world of inclusivity and diverse lifestyles, commitment ceremonies have emerged as a powerful and poignant way to honor relationships here in Tahoe and beyond. These ceremonies provide a platform for couples to showcase their unwavering devotion to each other, irrespective of societal norms or legalities. They're a celebration of love that shatters conventional boundaries, demonstrating that commitment is about the heart and soul, not just paperwork. Let's get to work planning yours! No one does love quite like Lake Tahoe, so take the next step and request information from the most sought-after ceremony and celebration venues in town!